SQUARE ENIX liberó hoy un nuevo trailer de gameplay para  Preparando a los jugadores para el peligroso viaje que los espera el 13 de Octubre en el día del lanzamiento.
El trailer "King Doric's Royal Overview, " narrado por el humilde rey, prepara a los jugadores con estrategias de personajes, consejos de compra dentro del juego y el conocimiento necesario de alquimia para triunfar contra las hordas de monstruos que se volvieron locos por una misteriosa maldición. Equipado con el consejo de Doric en personalización, estrategia y el manejo de el mejor equipo para cualquier situación, los jugadores pueden prepararse para derribar a la multitud de enemigos que los esperan.
Aquellos que pre ordenen DRAGON QUEST HEROES: The World Tree's Woe and the Blight Below a través de PlayStation Store recibirán un fondo estático para su PlayStation 4 y un arma especial dentro del juego, el Hacha Goolden.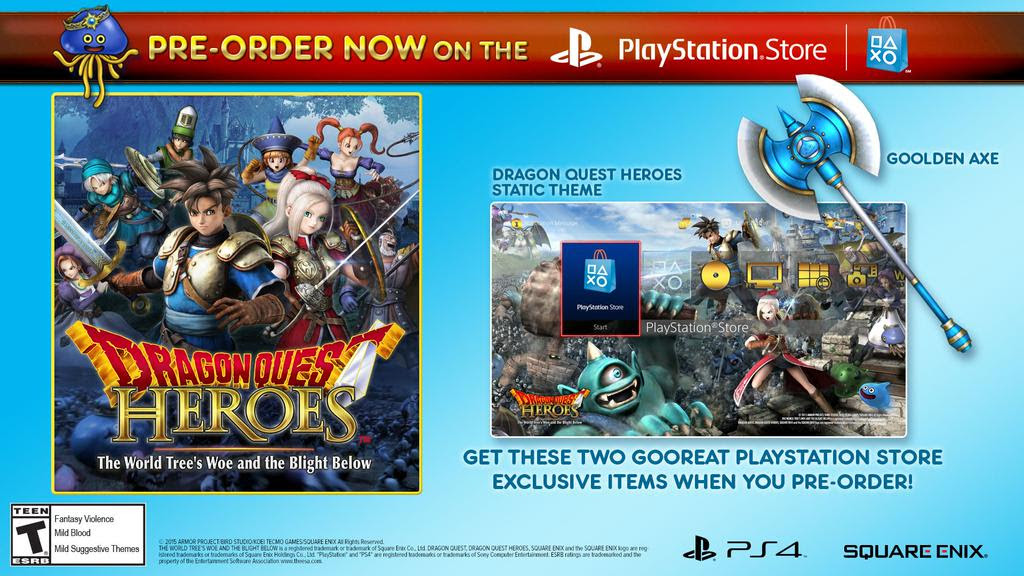 Además, el juego incluye todos los contenidos extra descargables liberados anteriormente en la versión Japonesa sin ningún costo. Los fans podrán jugar como el villano asesino de hombres, Psaro y explorar las historias personales de otros héroes de DRAGON QUEST desde el lanzamiento. El título también incluirá ambos idiomas, Ingles y japonés, dando a los fans la libertad de elegir la pista de audio que mejor se adapte a su experiencia.
Fuente: Nota de prensa