El próximo RPG de CD Projekt Red, The Witcher 3: Wild Hunt funciona a 1080p / 30fps en PlayStation 4 y 900p / 30fps en Xbox One, de acuerdo con datos compartidos por la revista alemana, GameStar.
La publicación afirmó que la versión de PlayStation 4 de The Witcher 3: Wild Hunt está funcionando a 1080p / 30fps y tiene apenas mejores texturas que en Xbox One, ligeramente menos nítida que en "High/Alta" en PC.
Además, la version de Xbox One funciona a 900p / 30fps y equipo de desarrollo de CD Projekt Red todavía esta trabajando en ello y podría llegar hasta 1080p, sin embargo no hay nada prometido.
Esto es lo que la traducción de la GameStar The Witcher 3: Wild hunt:
"En el duelo de consolas PlayStation 4, tiene claramente por delante una ventaja gráfica. Aunque las texturas son un poco más borrosas que en High (PC), que a cierta distancia de la pantalla, no se nota. Además, la aventura brujo en la PS4 es 1080p  pero sólo a 30 fotogramas por segundo,  no nos molestó.
En la Xbox One Geralt también llega a sus 30 fps  pero sólo en 900p, las texturas también se ven un poco más lavados que en la PS4. Sin embargo CD Projekt trabajara en la versión de Xbox para llegar a 1080p, pero no sin promesas. Por ahora la imagen en PS4 y el color son más nítidos y más fuertes ".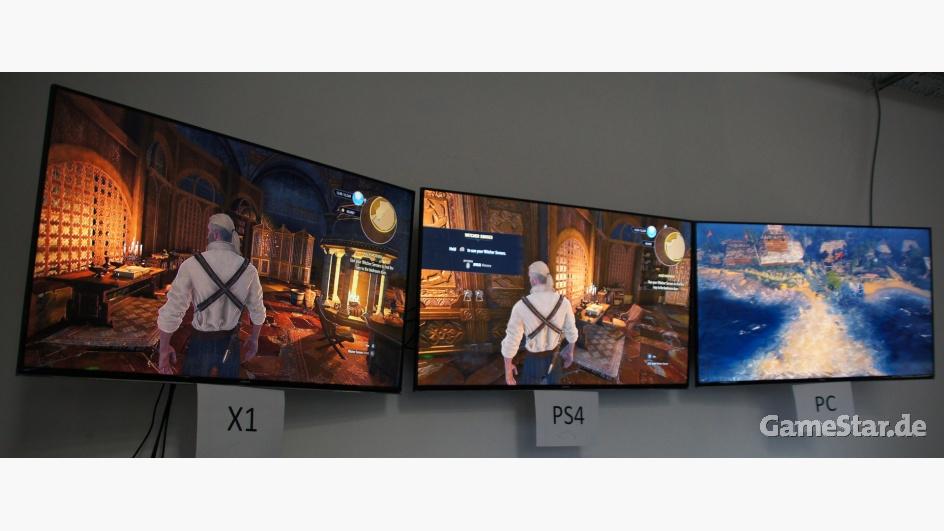 De acuerdo con informes que salen de la conocida fuente de la industria Shinobi602, los jugadores que asistieron a una previa de The Witcher 3: Wild Hunt vieron claramente una diferencia entre PS4 vs Xbox One : "texturas más nítidas en PS4, diferencia resolución, etc"
@MarkW1cked Players at the preview event said they noticed differences between the two. Sharper textures on PS4, resolution difference, etc

— shinobi602 (@shinobi602) January 26, 2015